Give your child peace and focus in everyday life
Does your child have difficulty concentrating on homework? And does it have too much energy to sit still at the dinner table when there is family time? Then you can help by accommodating and stimulating restricted movement. With a foot swing under the table, your child can release energy without disturbing others. It provides peace and well-being - not only for the active child, but for the whole family.  
Control stress and inner turmoil
Do you feel inner turmoil or live a stressful everyday life, do you often have an increased need to move? With SWNX under the table, you can do this without distracting and disturbing others.
Much better concentration
SWNX has the same effect as clicking with a pen or drumming on the edge of the table. It promotes concentration so that you can better focus on what you are doing in the moment.
Better blood circulation in the legs
Do you suffer from swollen or sleeping legs? Or do you need to get more movement into your everyday life in a gentle way? SWNX provides better blood circulation and gentle exercise.
Your child's restlessness is natural
Humans are created for movement and with that comes a natural need to get rid of energy. For many children, it is difficult to control the urge to move, and it can be stressful for the adults to accommodate - especially if the child has a diagnosis. 
In a busy life, it means a lot that family time is quality time. But it can be difficult as parents to keep calm when valuable time is spent trying to get the child to sit still at the table, and it all too often ends in conflict. 
Help your child get rid of energy discreetly and silently with a foot swing under the table. It provides quality time and peace for both the child, you and the rest of the family.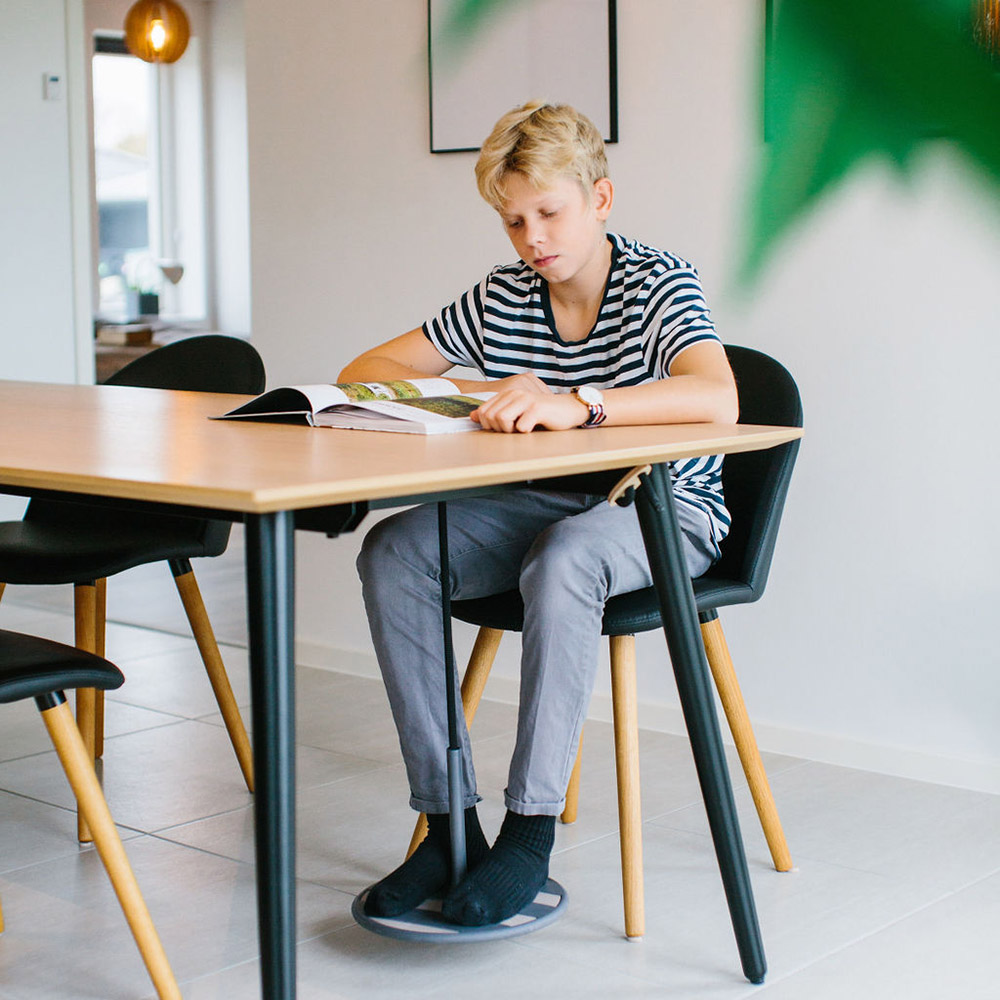 This is how you get peace at home
Accept your child's urge to move and help him meet the demands of doing his homework and sitting still at the table. With a foot swing mounted under the dining table and the desk in the children's room, you help your child to increase calmness and improve working ability.
It increases concentration and patience, so that the homework is done, and it gives peace and energy in everyday life for both you and your child.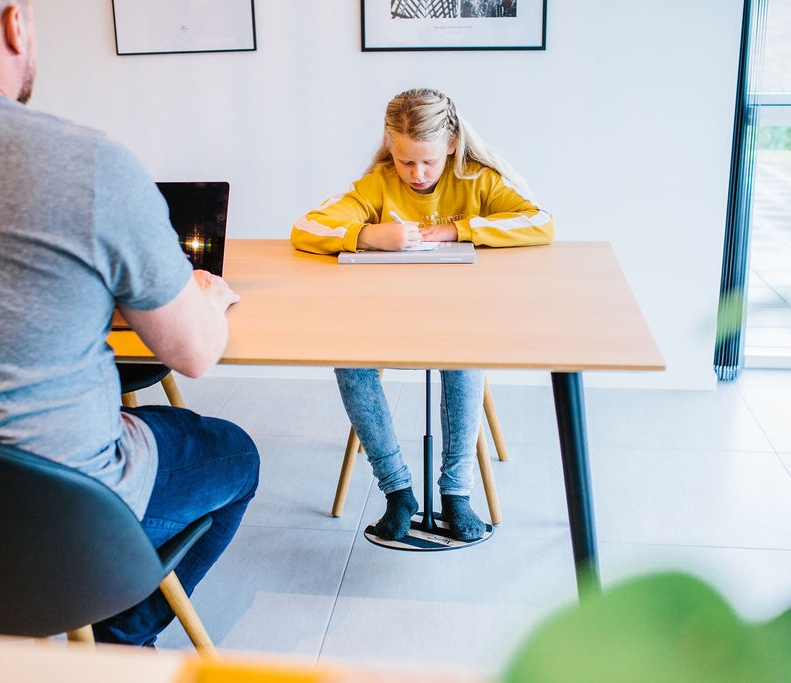 Look forward to spending time with your child
Some parents of restless children have to take a deep breath before entering the home after a long day at work. Despite a desire to be a generous parent with surplus, an afternoon and evening often ends with stress and conflicts and is a defeat for both child and parent.
Both you and your child are tired after a long day at work and at school or institution - but where you often need peace, your child needs time with you. But it can be difficult to accommodate a child with restlessness in the body, who demands your attention and companionship at a fast pace.
If the time together can take place quietly at the table, then it requires significantly less excess from you to meet your child's needs. It is a joy for both you and your child, who feels your presence and your desire to be together. 
You can achieve that tranquility with a foot swing under the table, which stimulates your child's need for movement while you play, draw or read a book. And it doesn't bother you or the rest of the family, as it takes place silently under the table.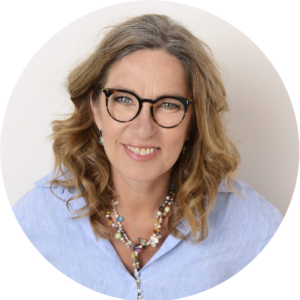 After our 6-year-old has had a SWNX foot swing fitted to his place under the dining table, we experience a clear change in behaviour. He is now able to sit down for a significantly longer time during meals and generally sits much more calmly in his chair. It is the same new, positive behavior we experience when we play games or sit and draw, for example, at the dining table. It's so nice for both him and us!
Pia, Mother
For my son, the SWNX foot swing has not only improved his concentration, but it has also meant that he is no longer rocking on the chair because the foot swing gives him the movement he needs.
Kathrine, Mother
In the home, parents of children with urges and needs for movement often find that the child has difficulty joining the table and staying seated during a meal or until another sedentary activity is finished. Here, a SWNX footswing can be a really good help to reduce reprimands and complete a meal in peace, where togetherness and dialogue can be paramount.
Physiotherapist Hannah Harboe, "Børnefyssen" in Copenhagen
SWNX is easy to install and also easy to adapt to the individual child. SWNX is a superb measure for the child who has challenges with sitting still and concentrating.
Get some peace at home!
SWNX is easy to mount under the table and gives noticeable results immediately. 

Order SWNX online in our webshop
You order SWNX quickly and easily in the webshop and get it delivered within a few days.
Install SWNX in just 5 minutes
SWNX is easy to set up under a table using the supplied bracket and some screws.

Enjoy the peace - and that it lasts
Then it's just a matter of enjoying the peace and the good company with your child.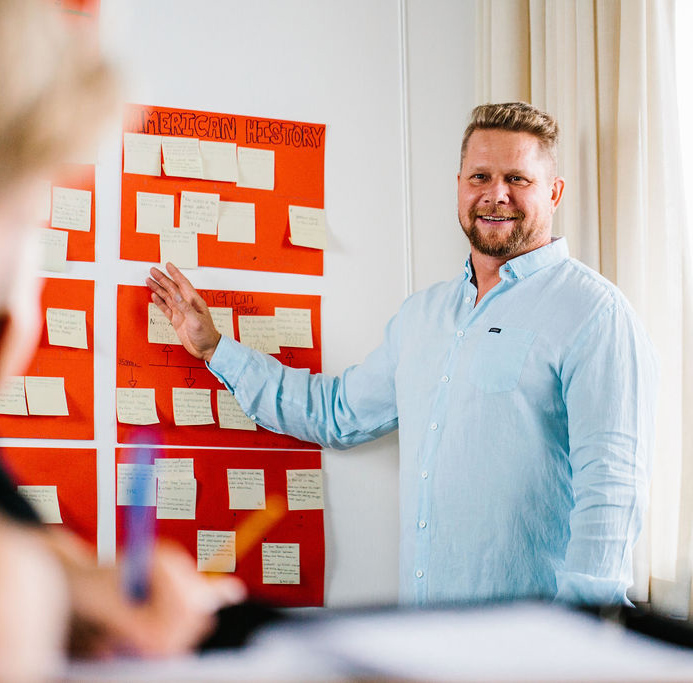 The man behind SWNX was himself a restless child
The inventor behind SWNX is a woodcraft- and mathematics teacher from Sønderborg named Peter Dubgaard. 
He was a restless child himself, so he knows the frustration of not being able to live up to adults' demands to sit still. 
As a trained teacher and father of three, it was therefore a pain for him to hear himself say "now sit still", when he could well remember how impossible a task it can be for a child with restlessness in his body.
One day he got an idea. He taught a class where a boy had so much anxiety in his body that both Peter and the other children in the class became annoyed with him. Desperate for a solution, Peter took a ball lying in the corner and placed it under the boy's feet. It worked! The boy was sitting and tipping his feet on the ball and was now both sitting calmly and able to concentrate on the lesson. That is, until the ball bounced.
But the idea was born and through countless adjustments and upgrades, the SWNX foot swing has now become a motor tool that creates calm and concentration for students in a quarter of all schools in Denmark and in hundreds of private homes.
Try it free for 30 days and get more peace of mind in your everyday life!  
Would you like to investigate what the foot swing SWNX can do for you in your working day? Then test a SWNX foot swing for 30 days. The amount is deducted if you choose to buy the foot swing after testing!