Strengthen students' concentration
Give restless and energetic children the opportunity to move around during class without them disrupting the lesson.
Control stress and inner turmoil
Do you feel inner turmoil or live a stressful everyday life, do you often have an increased need to move? With SWNX under the table, you can do this without distracting and disturbing others.
Much better concentration
SWNX has the same effect as clicking with a pen or drumming on the edge of the table. It promotes concentration so that you can better focus on what you are doing in the moment.
Better blood circulation in the legs
Do you suffer from swollen or sleeping legs? Or do you need to get more movement into your everyday life in a gentle way? SWNX provides better blood circulation and gentle exercise.
A restless child can ruin the lesson
Unrest spreads quickly in a school class. If a single child cannot sit still in class, it can destroy the concentration of the whole class. It is not only a sin for the child and the classmates, but it is a frustration for you as a teacher. Restlessness removes your focus from the lesson, and it is stressful to have to spend your energy on repeatedly creating calm in the class and then having to continue the lesson where you left off.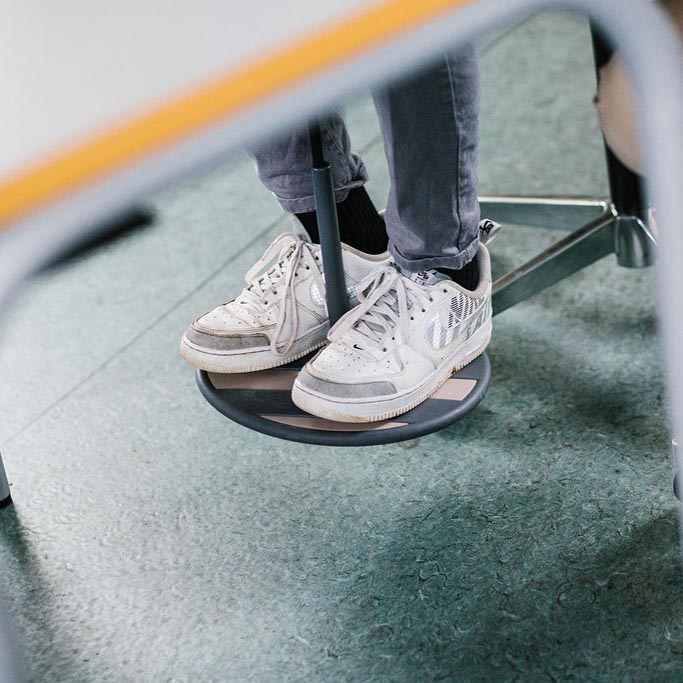 Get peace in the class despite energetic children
Humans – and especially children – are made to move. As a teacher, you can create peace and well-being in the class by recognizing the natural urge to move and letting the children have an outlet for their energy - discreetly and silently.
A SWNX foot swing can help with that. It is easy to mount under the tables and helps the children to find peace and concentration for the lessons. At the same time, it also helps passive children who need help to stay awake and present, as well as children with a number of diagnoses such as ADHD, low muscle tone, low arousal and many more.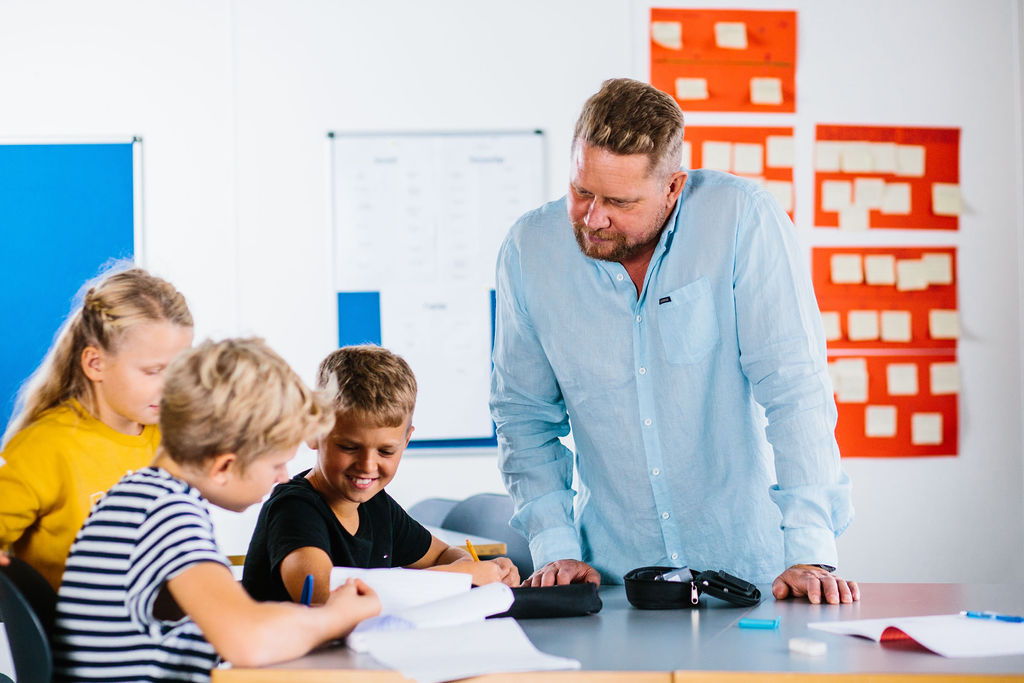 Gain more peace during the lesson
Restlessness in class is stressful and steals your focus. And it disturbs everyone in the class that the lesson is constantly interrupted by you having to ask one or more students to sit still. This also makes it difficult to keep to the schedule, and then it is difficult for you to ensure that all students get something out of the lessons. 
By stimulating the students' restlessness or urge to move with a foot swing, which provides an outlet for the energy, you create a better learning environment for the whole class. Then the students can tilt and rock with their feet discreetly and silently, while the upper body is at rest over the edge of the table.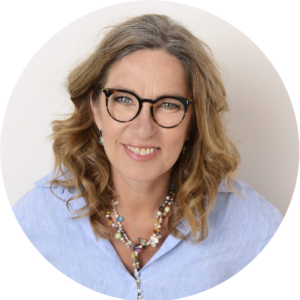 SWNX is a utility that one wonders wasn't invented long ago. I believe that it can help teachers, educators, parents and their surroundings to better accommodate children who have difficulty sitting still. From the tests I've seen, it also suggests that the children themselves are happy and relieved to be able to sit and concentrate while moving their lower body.
Physiotherapist Hannah Harboe, "Børnefyssen" in Copenhagen
I have a boy in the 4th grade who has been very out of place in school. He was either walking around the class or lying under the table or elsewhere. I can feel a definite difference, the two weeks he has had a SWNX foot swing installed under his table. He stays in his chair much longer and seems happy with his own special place. 
Karen, teacher
I have a boy in the 4th grade who has been a lot out of his place during school - either walking around the class or lying under the table or elsewhere. For two weeks he has had a Swnx installed under his table and I can feel a difference. He stays in his chair much longer and seems happy with his own special place. He never lies down on the floor anymore and although he can walk around the class a bit once in a while, he doesn't mind being sent to his own place again. I would like to keep his Swnx as a good aid for more calmness and better concentration.
Karen, teacher
That's how easily you can get peace in your class!
With the SWNX foot mat, it's easy to relax in class. It is easy to set up and gives noticeable results from day one!

Order SWNX online in our webshop
You order SWNX quickly and easily in the webshop and get it delivered within a few days.
Install SWNX in just 5 minutes
SWNX is easy to set up under a table using the supplied bracket and some screws.

Enjoy the peace - and that it lasts
Then it's just a matter of enjoying the peace and the good company with your child.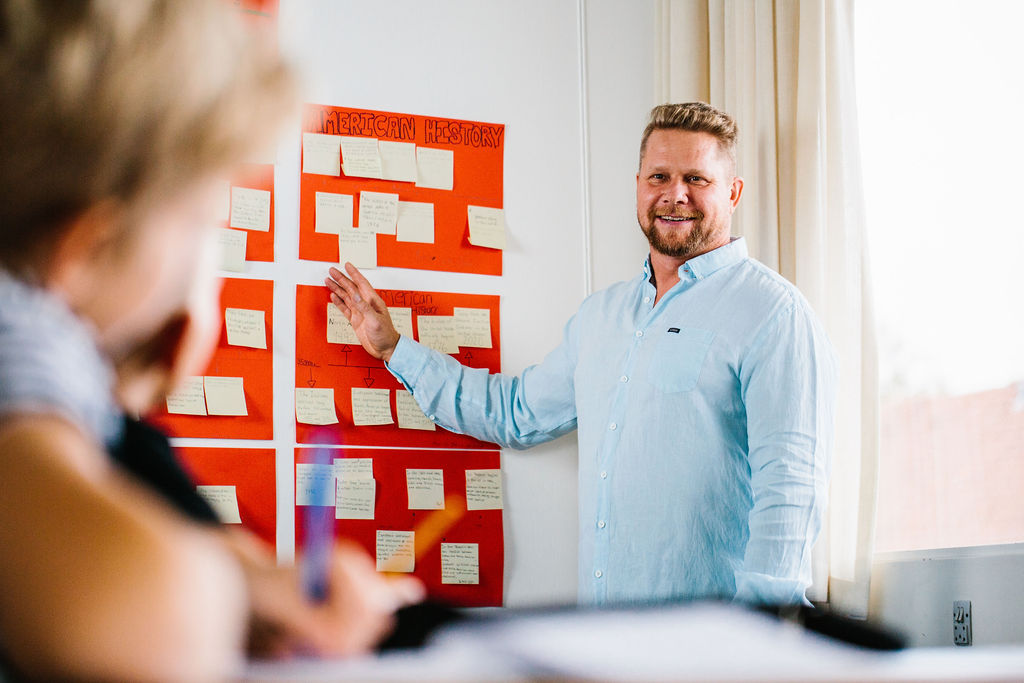 Developed by a school teacher, who himself as a child had problems sitting still whilst in school. 
During his school days, Peter Dubgaard himself was a child who found it difficult to sit still. When he later trained as a teacher and got a job at a primary school, it tormented him to reprimand the restless children, because he well remembers how impossible it can be to live up to that requirement when the urge to move presses on.
One day he got an idea. He taught a class where a boy had so much anxiety in his body that both Peter and the other children in the class became annoyed with him. Desperate for a solution, Peter took a ball lying in the corner and placed it under the boy's feet. It worked! The boy was sitting and tipping his feet on the ball and was now both sitting calmly and able to concentrate on the lesson. That is, until the ball bounced.
But the idea was born and through countless adjustments and upgrades, the SWNX foot swing has now become a motor tool that creates calm and concentration for students in a quarter of all schools in Denmark and in hundreds of private homes.
It has the same energy-dissipating effect as a Fidget Cube or sitting and clicking with a pen. But it neither makes noise nor disturbs the surroundings, and it stimulates the student's inner restlessness from the first second.
Try it in your class - and find peace during lessons
Would you like to investigate what the foot swing SWNX can do for you in your working day? Then test a SWNX foot swing for 30 days. The amount is deducted if you choose to buy the foot swing after testing!